Power distribution in future wiring systems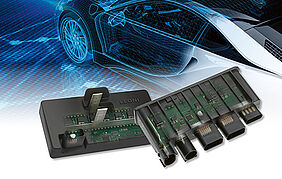 Recent trends such as automated driving and increasing vehicle electrification are creating demands on future wiring systems. Meeting these functional safety requirements will require a power supply and a wiring system architecture. Leoni is contributing to this with a generation of power distributors.

The requirements being placed on the wiring systems of the future is also increasing their complexity. Numerous sensors, actuators, safety-related driving functions, and other electronic systems must be continuously supplied with electrical power. This, even during voltage swings, short circuits, or (sub)system faults – in order to prevent consequences for drivers, occupants, and other road users. Such a level of safety for on-board power networks can be achieved with a reliable energy management.

The iPDS (intelligent power distribution switch) and the iPDM (intelligent power distribution module) prevent a possible total breakdown of the wiring system. This is enabled through processes that include activating or deactivating sub-systems or individual channels, explained the company. The functionality of the overall wiring system is also enabled by other functions of both products. These functions include various safety and diagnostic for connected lines and under-voltage protection integrated into the on-board power supply system.

Both products come with communication interfaces such as LIN, Classical CAN, and CAN FD. The modular design of the products in terms of software architecture (without/with Autosar), voltage levels (12-V, 24-V, or 48-V), and the number and configuration of outputs also permits integration into various types of wiring systems. Together, the products create a foundation for automated driving, said the company.