Cleaning concept for vehicle sensors and cameras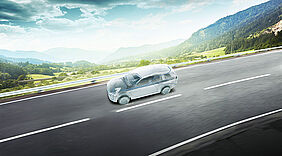 A number of additional sensors and cameras will be required in the vehicle in order to make autonomous driving work. However, these can only function safely and reliably when they are free of contaminations as well as rain and snow. Roechling Automotive developed a cleaning concept: The Advanced Active Cleaning System (AACS). This solution allows contaminated zones of the vehicle to be cleaned in a targeted and demand-driven way, thus meeting one of the basic requirements for autonomous driving. According to the company, the concept of the AACS offers automotive manufacturers flexibility, supporting applications in particular in the transition phase to fully autonomous driving. The ECU (electronic control unit) in the system comes with LIN. The company is also able to modify the ECU and provide it with CAN.
The solution stores, monitors, doses, and, if required, automatically distributes cleaning fluid to several outlets simultaneously or independently. "With the development of our AACS, we are actively confronting the question of safety during automated driving," said Erwin Doll, CEO of Roechling Automotive. "Our technology is designed to ensure that, as the "senses" of the vehicle, the cameras and sensors are able to work under ideal conditions at all times. In this way, we support automotive manufacturers with a flexible modular system solution for various different levels of automation."
A scheme of the AACS system (Source: Roechling Automotive)
The product was developed on the basis of the washing systems from the company. Individual adjustments are possible, allowing the technology to be adapted in the vehicle according to the wishes of the customer. The pump of the system works at high or low pressure depending on the requirements. Demand-driven dosing and pressure control allow the system to make a contribution to energy savings as only a small quantity of water is used for cleaning, explained the company. To ensure that the system works efficiently at below-zero temperatures and cleaning water is available in liquid form, the company developed various different heat management systems. In addition to an electrical heating system, the engine exhaust heat can also be used for this purpose depending on the requirements.