Ebm-Papst: Gas blower for boilers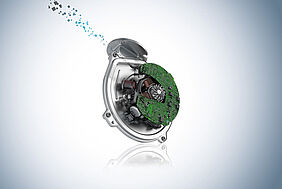 The LIN network can also link pumps, valves, sensors, and other blowers. A prerequisite is that the system components are LIN-capable. Engineers at Ebm-Papst developed a gas blower that satisfied the technical requirements ten years ago, but no other LIN device were available for heating systems at that time. Nowadays, several company provide LIN products for this market.
Boiler manufacturers can now also read out additional data, e.g. information about power consumption, speed, and ambient temperature, in order to further optimize combustion and increase the boiler's performance. Since the LIN-Bus is bidirectional, it can also transmit commands. Therefore, it is optionally possible to position the speed controller directly in the blower. Due to faster and more precise speed control, the modulation range can be expanded. Less cabling effort is another benefit. Only one cable is required, which connects all slave units with the master.
During maintenance, there is no time-consuming troubleshooting since the problem is identified directly on the service technician's screen. The evaluation of operating hours, start-stop cycles, and ambient temperature profiles permits simple status monitoring with LIN blowers. With the LIN connection it is possible to record states and therefore to initiate a timely replacement of parts before they become defective. This predictive maintenance is another big benefit for the end user.
The VG 71 and VG 100 blowers for a heat output up to 50 kW from the RadiMix product range are LIN-capable. This power range makes them suitable for use in individual houses and apartment blocks. Other sizes, namely the VG 108 and VG 122 for up to 150 kW, are under development.