LIN/CAN dongle: Dual-channel hybrid interface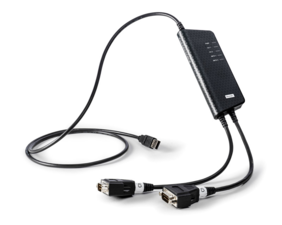 The user can configure the interfaces to comply with LIN or CAN.

The USB dongle features two ports configurable individually to support LIN or CAN connectivity. It comes with a standard USB connector and two separate 9-pin D-sub connectors for the in-vehicle network communication. The LIN implementation complies with the LIN 2.2A specification. The CAN implementation supports Classical CAN and CAN FD (with dataphase bit-rates up to 5 Mbit/s).

The Swedish company supplies free-of-charge the LINlib and the CANlib software. These APIs (application programmer interfaces) are common to all Kvaser hardware. Software driver for Windows, Vista, and Linux are available. The product is specified for a temperature range from -40 °C to +85 °C. It measures 50 mm x 170 mm x 20 mm and weighs 170 g.